Deli/Bakery
Springdale's only bakery is located in Sol Foods
Our nutritious, fresh salad bar is open from March through October and features spring greens, fresh spinach, romaine lettuce, tortellini salad, tomato/cucumber & feta salad, barley salad, sesame pasta salad, Italian pasta salad, broccoli, peppers, tomatoes, onions, grated cheese, couscous, tabouli, hard-boiled eggs, tuna salad and much, much more. We also prepare two delicious homemade soups daily.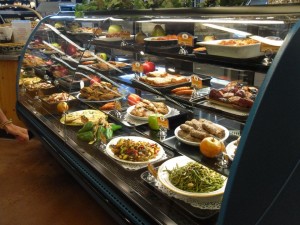 Stop by our deli before you enter Zion National Park for one of our homemade breakfast burritos, toasted bagel sandwiches, cinnamon rolls, donuts, muffins or any of our baked items to enjoy on the premises or packaged to go. Sol Foods also offers signature sandwiches, paninis and wraps as well as build-your-own options. Sol Foods brews Utah's Caffe Ibis coffee throughout the day and we offer an excellent selection of hot tea. Our friendly kitchen staff bakes fresh bread, brownies, cookies and pastries every morning and will slice meats and cheeses to order.
The front porch of our Supermarket has outdoor seating under Zion's towering cliffs where you can enjoy your breakfast, lunch or dinner. With advance notice, Sol Foods can cater your private party with affordable, delicious platters to go.
Our entrees include lasagna, meatloaf, curry, grilled chicken & fried chicken, kebobs, bacon-wrapped pork, pulled pork, beef brisket, meatballs, shrimp, pesto salmon, roasted potatoes, green beans almondine, quiche, macaroni and cheese, grilled and roasted vegetables, olive tapenade, marinated mushrooms & tomatoes, specialty olives, tiramisu, cheesecake and much, much more.